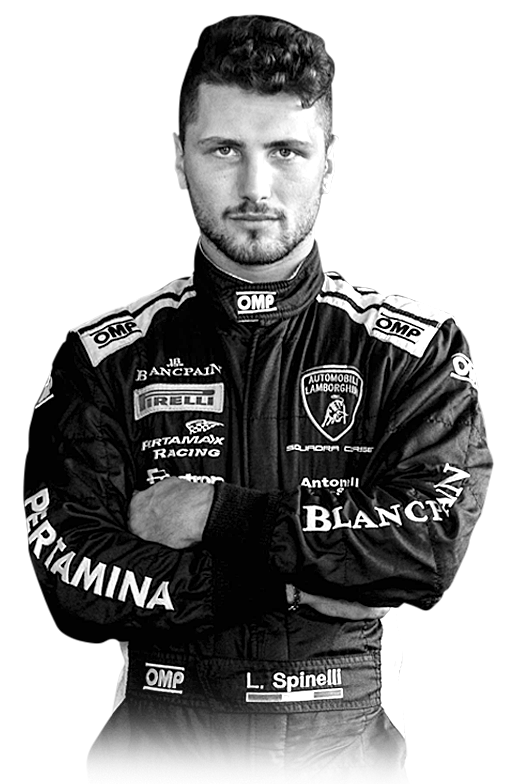 Birth Date: December 30th, 1995
Place of Birth: Atri, Italy
Residence: Palm Beach Gardens, Florida
Personal Interests: Running, Training, Sim Racing
Height/Weight: 174cm, 71kg
FIA Classification: SILVER
Loris Spinelli began his career at the age of 5 years old on Italian circuits with I go-karts.
He was official driver for many manufacturers racing all over Europe in the most prestigious championships. In 2011, he became world champion on the international circuit of Naples, European and championships in the single-make and shifter category.
In 2015, there was the first transition from go-karts to racecars in the Lamborghini Super Trofeo and in 2017 he won the first European championship in the PRO category.
In 2018, the Italian driver continues to driving in the Super Trofeo series in Europe and America winning both championships and the world finals at the Vallelunga circuit. In the same year, with the Mercedes brand, Loris competed in the 24h of Daytona, one of the most important races in motorsports, and other endurance races such as 12h of Sebring and 24h of Spa-Francorchamps.
In the following years, Loris continued to work for both brands in Europe, winning positive results. He returned to America in 2021 and will also be present in 2022 with the Taurino team in the Lamborghini Super Trofeo series, racing in the PRO category and with the Mercedes brand in the GT World Challenge Championship.
Racing Highlights
| | | |
| --- | --- | --- |
| 2021 | 3rd | Lamborghini Super Trofeo North America (Pro-Am) |
| 2019 | 2nd | Lamborghini Super Trofeo World Final (Pro-Am) |
| 2018 | 1st | Lamborghini Super Trofeo Europe (Pro-Am) |
| 2018 | 1st | Lamborghini Super Trofeo World Final (Pro-Am) |
| 2018 | 1st | Lamborghini Super Trofeo North America (Pro-Am) |
| 2017 | 1st | Lamborghini Super Trofeo Europe (Pro) |
| 2015 | 1st | Lamborghini Blancpain Super Trofeo Huracán (Pro-Am Cup) |
Karting Highlights
| | | |
| --- | --- | --- |
| 2015 | 3rd | Italian Championship (KZ2) |
| 2011 | 1st | CIK-FIA World Cup (KF2) |
| 2010 | 1st | 21° Trofeo Andrea Margutti (KF3) |
| 2009 | 3rd | 39° Trofeo Delle Industrie (KF3) |